29 Dec

Stem Cell Injections for Knee Arthritis – What are the Options?

Osteoarthritis, the most common form of arthritis, is a medical joint condition (disorder) caused by loss of articular cartilage  that happens as we age. Though there are medications and other factors that can cause it in people of all ages, it usually develops after age 40.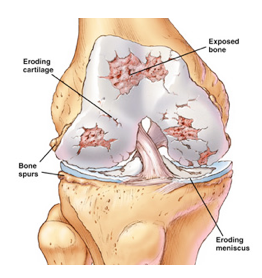 Knee arthritis in particular tends to be common because of the wear and tear that our knees get day in and out.  The knee is known to have limited regenerative capacity, is quite painful and has the tendency to affect the quality of life for most patients who suffer from it.
According to reasearch and statistics, one in two people are expected to develop knee arthritis by age 85. Some of the most commonly known symptoms are: swelling, stiffness, warmth, fever and creaking of the knee joint.
Until several years ago, most patients suffering from knee arthritis were recommended painful and risky knee surgery. Though often effective, knee surgery comes with several possible complications along with a long recovery period. Fortunately, stem cell therapy for knees is now an option for many that offers a patient a safe and effective way to treat arthritis in the knee rather quickly and with little risk.
Stem cell therapy for knee arthritis consists of a non-surgical effective alternative treatment to treat the cause of this painful and debilitating condition by allowing the damaged knee to regenerate its cartilage. Some versions of the treatment are: prolotherapy, adult stem cell therapy, or platelet rich plasma (PRP) therapy.
How does it work?
Where low blood flow doesn't allow the body to naturally heal itself, stem cells have the ability to self-renew and repair the cartilage. Stem cells are harvested directly from the patient and combined with PRP (the natural growth factors found in the body) they sustain the development of new body parts such as tendons, joints or ligaments. PRP therapy is very effective in both stem cell development and stem cell independent regeneration inside the body.
The most commonly known risks associated with knee surgery are severe pain and disability. Why go through all this trouble when you can rely on progressive science and technology? There are many successful stories of stem cell and PRP therapies used to treat knee arthritis, with minimal recovery time and no reports of serious adverse effects.
Stem cell treatment is safe and efficient, and if necessary, it can be repeated to obtain best results. At TeleHealth, Board Certified doctors offer numerous regenerative medicine treatments including bone marrow and fat derived stem cell injections along with PRP therapy.
At times, insurance covers the treatment (or part of it). Call (888) 885-8675 for more information and scheduling today!